CREATING FILES AND NOTES

- Click the Folder Icon on thetoolbar This will open up the Create Folders and Note manager.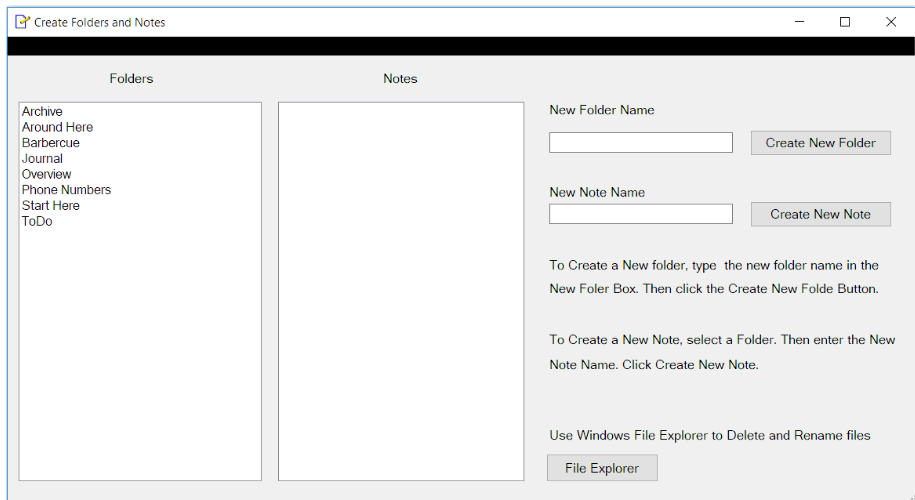 To

CREATE A FOLDER,

type in the

FOLDER NAME

. Click [

CREATE NEW FOLDER

].

To

CREATE A NOTE,

select the Folder. Type in the new name, click [

CREATE NEW NOTE

].

If you want to

DELETE OR RENAME FOLDERS OR NOTE

, click the [

FILE EXPLORER

] button. Note once the files have Deleted or Renamed a folder or note, right click in the
file access tree. Right click the mouse. Then Refresh Directory. Changes made by the File Explorer do not automatically update the File access tree.

Once you have setup your Folders and Notes, you can access your notes in the Folder and Notes tree. Simply clicking the Folder, then the Note. This will load the selected Note.



STARTUP NOTE



You can choose which note you want to load when you run Arisnote 2017.

Click Options -> Startup Note

. Click the Browse button. A window will pop up. Select the Note you want to start with, Click the the Select Note and Exit. To finish Click the Save Button.

When you run Arisnote 2017, it should load that Note. If it doesn't make sure you have the path specified correctly.



FOLDER AND NOTE LOCK



When you start typing a note, the file acess area locks. This feature can be turned off or on in

Options->File Lock Option

. This Option prevents you from changing to another Note before you have saved it. It also shows you that the file needs to be saved. This is an added safety feature.

If you turn it off, it becomes your responsibility to save your Note. When you SAVE your note, the Lock is removed. Or you can click the Red File Unlock Icon if you don't want to save that note.

Or as stated above, you can turn off the Lock if you do not like it. The default setting is on.



SAVING NOTES



Once you have created your Folder and a Note, you can type in your note. To Save your Note click the [

Note Save

] button. As stated above, it will turn off the file lock.

Secure

Any note can be encrypted. Go to the Secure menu to encrypt or decrypt the current note. Enter the password. To lock enter the passwor, click the lock button. To unlock enter the password, click the unlock button

Extreme care should be used when you encrypt a notee. If you forget the password, there is no way to decrypt the note. Use care when locking a note. Also once you have unlocked the note, you will need to lock it again.

We suggest creating a Folder to store your encrypted files in. Call it lockbox or what ever you want. Great for storing login and password information.



THE TOOL BAR
The toolbar icons are as follows (left to right)

⦁ Unlock File Acess - This turns off the file access lock
⦁ Create Folders and Notes - This lets you create Folder and Notes
⦁ Lockbox - Shows the Lock Box program
⦁ Bold
⦁ Italic
⦁ Underline
⦁ Cut
⦁ Copy
⦁ Paste
⦁ Bullets List
⦁ Number List
⦁ Select All
⦁ Fonts drop down list lets you select a different Font for selected text
⦁ Size drop down List to change the Font size of selected items
⦁ Color drop down List to change the color of selected items
⦁ Find - See below
⦁ Check Spelling - Toggles the spell checker on/off
⦁ Programable Buttons - Appear when a Button is programmed

To

Find

text in the Note, type you search word in the text box in front of Find, click Find. It will highlight the words. To clear the highlighted text, click clear. Please not that searching for common words can be slow, use specific keyword for faster earches.



PROGRAMMING THE LAUNCH BUTTONS



To program Launch Buttons, click

Options->Launch Options

.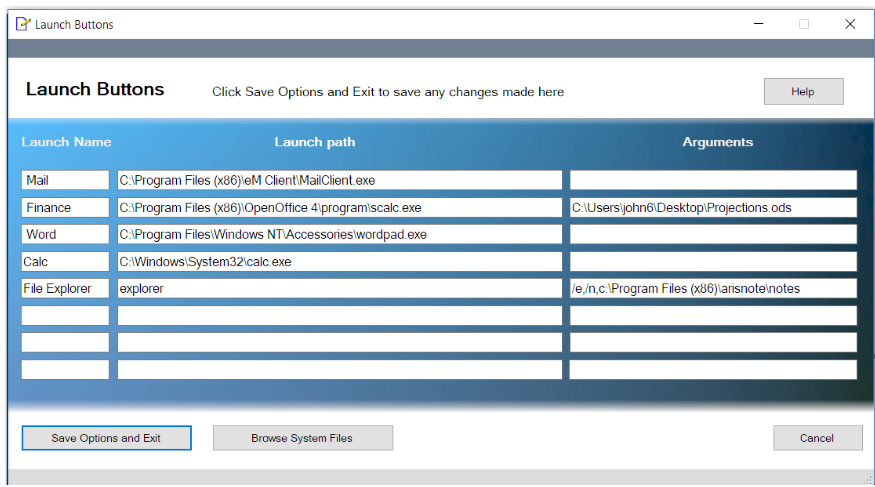 The above has a Launch Name. Launch Path and Argument. Here is an Exampe:

Name = Mail
Path = C:\Program Files (x86)\eM Client\MailClient.exe

Name = Finance
Path = C:\Program Files (x86)\OpenOffice 4\program\scalc.exe
Argument = C:\Users\john6\Desktop\Projections.ods

Arguments are strictly optional. Leave blank. Or you can add specific arguments. Many programs take command line arguments. Some don't.

Name =Wordpad
Path = C:\Program Files\Windows NT\Accessories\wordpad.exe

Name = Calc
Path = C:\Windows\System32\calc.exe

*** See the Q&A page for more useful launch example

s





BACKUP FILES



You can back up all the ArisNote 2017 files with the backup function. Options->Backup. Select the Drive and or Directory you want to store the files in.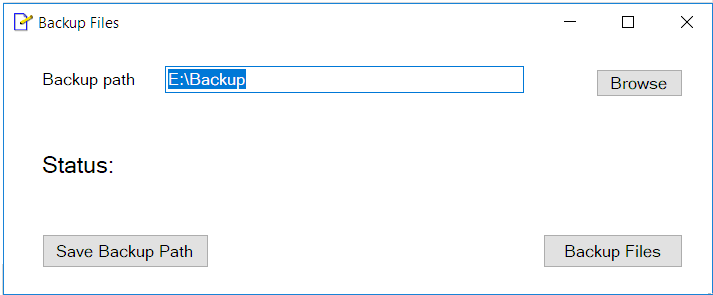 You need to select a backup directory. It can be on your hard drive, SD or USB. Since the backup copies ALL the ArisNote files
you will be asked to delete the last backup before making a new copy. The Status will show Backup Done once the backup is done.
The backup to an SD or USB drive can be slow, so allow it to backup.



RESTORE BACKUPS



ArisNote Plus does not include a restore function. This was done to prevent accidently overwritting your files. You can manually restore the files by copying the files back into the directories at C:\Program Files (x86)\ArisNote\ as needed.

Screen Adjustment

ArisNote Plus attempts to adjust the screen to different resolutions. Some screens frankly will not look good on some systems.

Arisnote was designed on a laptop mainly for laptops. It should look OK on many systems. But if you are using a none recommended scaling system, really old laptop, it may not look right. Some scaling settings can be adjusted. Some can't.

The Screen Adjustment works by allowing the calendar, save bar, treeview and editor size and position. You can experiment with these setting. Once saved it will reload those settings on startup.



NOTE:

Some system resolutions simply won't work. Most common ones will, but we can not guarantee this program will work on all systems. Because the look and feel of the program is important, we can't gaurantee it will work or look right on all syatems.